Matte bronzing powder
Suntorini Matte Bronzing Powder
Tan Dark brown

Sunshine in a box!
Matte and talc-free bronzing powder enriched with Squalane, Vitamin E, and Pomegranate Fruit Extract for a long-wearing, natural, and sun-kissed glow. Matte and easy to blend: With its highly pigmented formula, this bronzer is all you need to make your skin look like it was kissed by the Greek sun. Vitamin E, Squalane, and Pomegranate provide your skin with well-aging, hydrating ingredients for smooth and soft skin.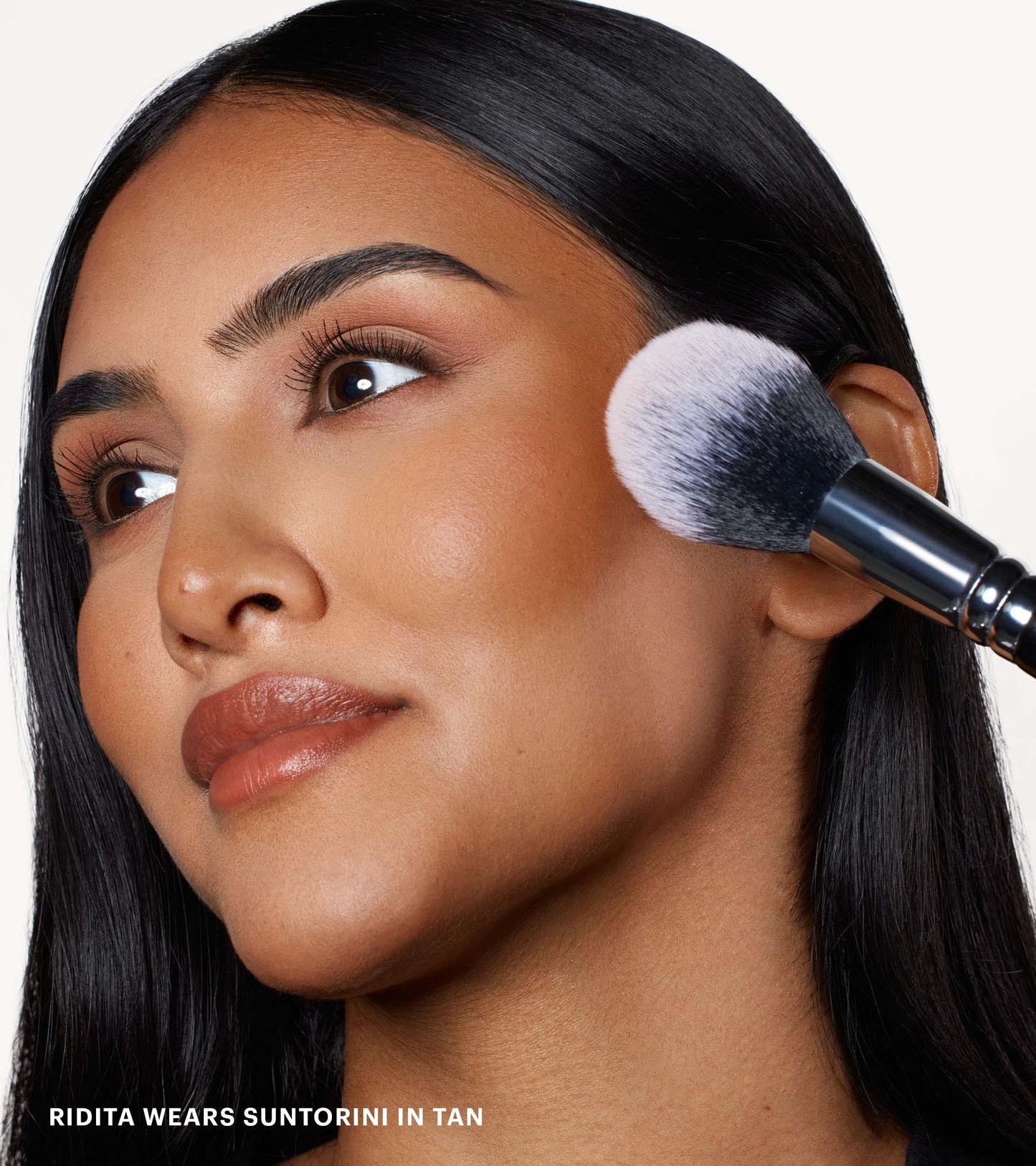 7

|
The Suntorini Effect
Our talc-free ZOEVA Suntorini Matte Bronzing Powder provides a natural tan finish and the perfect sun-kissed, healthy glow.
Its matte texture allows you to smoothly apply and blend out the bronzer. Thanks to its long-lasting, naturally luminous, and pigmented formula, you can easily bronze up your complexion for a natural everyday tan or intensely radiant results for special occasions.
How to Use
1
Apply the Suntorini Matte Bronzing Powder to your cheeks with our ZOEVA Suntorini Multi-Powder brush or the ZOEVA 119 Bronzer brush.
2
For a more intense look, you can also apply the bronzer to your forehead and along your jaw. Applying in the shape of a "3" is especially useful here.
3
Create a sun-kissed look and apply the bronzer to the bridge of your nose and your décolleté. The beveled tip of the ZOEVA 127 Blush & Bronzer Brush is particularly suitable for this.
Key Ingredients
Vitamin E

Well-aging, anti-oxidant properties.

Squalane

Hydrates the skin and leaves it supple, soft, and smooth.

Pomegranate Fruit Extract

Soothes skin and improves appearance of fine lines and wrinkles.
Suntorini Bronzer Kit
Get kissed by the sun and discover the ultimate bronzer kit for the perfect look!
Matte bronzing powder
Sale price
$30.00
Regular price
Unit price
Suntorini Multi-Powder Brush

Sale price

$27.00

Regular price

Unit price
Vegan compact powder brush
Sale price
$27.00
Regular price
Unit price
Suntorini Makeup Beach Bag

Sale price

$29.00

Regular price

Unit price
Oversized Makeup Beach Bag
Sale price
$29.00
Regular price
Unit price